Program Overview
The Acupuncture Course Track is presented in 3 online and 2 on-site sessions.
During the online portions, you'll overview the theories and frameworks needed for diagnosis and treatment of acupuncture patients. You then explore these frameworks more practically in recorded demos on live patients.
When you come to the Main Campus for the on-site portions, you'll gather with classmates in live lectures on treating specific conditions, building on top of the online lectures. After an included catered lunch, you then split up into smaller lab groups allowing you to locate and discuss acupuncture points on live animals facilitated by instructors certified in acupuncture.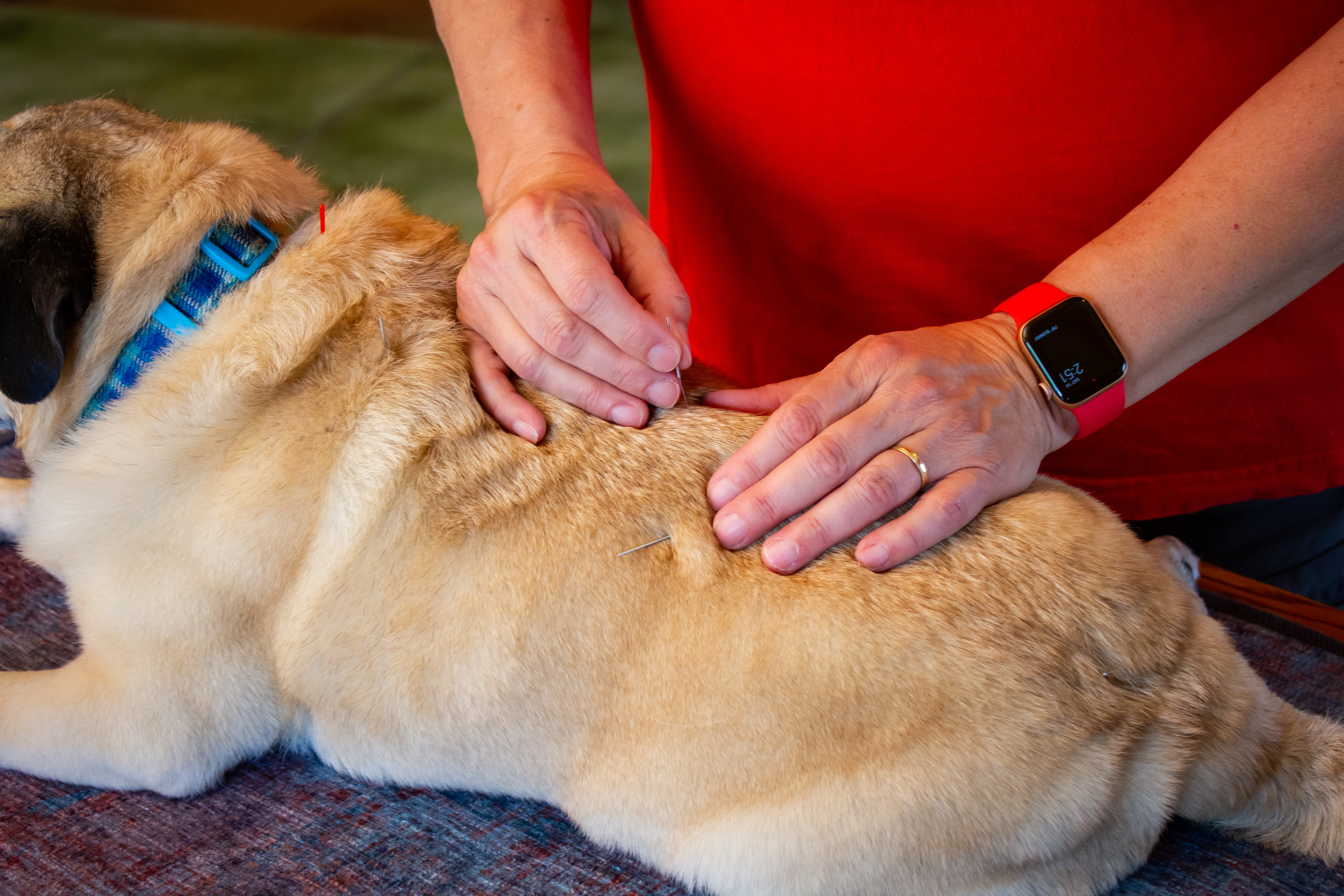 Major Topics
With a curriculum designed for students new to acupuncture, the Small Animal Acupuncture Program provides a comprehensive mix of both theory and practice. You will learn:
Frameworks used in acupuncture: Five Elements, Yin-Yang, Eight Principles, Zang-Fu Physiology and Pathology, Meridians and Channels
The scientific basis of acupuncture
129 transpositional and 28 classical canine acupuncture points (hands-on, wet-lab demos)
Acupuncture techniques: electro-acupuncture, aqua-acupuncture, moxibustion, and dry needling
TCVM diagnostic systems: patient personality, tongue and pulse diagnosis, and client inquiry
How to integrate acupuncture into your practice
Additional Benefits
Once enrolled for the Acupuncture Certification Track at Chi, you will receive:
Complimentary canine acupoint chart
Complimentary 32-hour Evidence-Based Veterinary Acupuncture Course
1-year complimentary membership with the World Association of TCVM (WATCVM)
Free lifetime case consultation by Chi faculty
Program Features
Enjoy the convenience of online learning with 20 hours of virtual lab learning in 143 total hours of hybrid courses
Learn from Dr. Xie, the master of veterinary acupuncture
29 hours of intensive hands on learning with live animals in small lab groups capped at 6 students for every instructor
Start practicing acupuncture on patients after the first on-site session
Earn up to 25% of future master's degree credit per experiential learning
What our students have to say
After finishing the course, I feel confident to practice acupuncture and not worried I'm going to do it wrong. The training was great.
Carrie Uehlein, DVM
Huntersville, NC
I am very happy that I chose to study at Chi. The integration of acupuncture and the rest of the modalities of TCVM combined with the knowledgeable and helpful teaching staff have made this a lifetime event for me.
Rene Gandolfi, DVM
Castro Valley, CA
This class was amazing! I love the small lab groups and the information is presented wonderfully. I now see how TCVM courses can become addicting!
Amanda Ramage, DVM
Westmont, IL
Dr. Xie's lectures are outstanding. Very engaging speaker. The information is presented clearly and he guides you through the material in a way that you can easily understand.
Jessica Balter, DVM
Seaford, NY
It is always nice to see an actual patient and assess tongue and pulse, then work through the diagnosis and treatment plan. I am continually amazed at all of the work and goodwill that gets poured into these classes.
Jean Hollenstein, DVM
Glenwood, MN
Veterinary Acupuncture Certification Track
For veterinarians & veterinary students only
138 RACE approved CE hours
Curriculum
Introduction to Whole Course and History of Veterinary Acupuncture
1h
Veterinary Acupuncture: Scientific Basis
2h
General Rules of Acupuncture
4h
Indications for Veterinary Acupuncture
2h
How to Start your Acupuncture Practice: Cookbook
1h
How Do I Start My Acupuncture Practice
Anatomy for Acupuncturists
1h
Five-shu Transporting Points, Source Points, Back-shu and Front-mu points, Influential Points
2h
Five Elements and Zang-Fu Physiology
2h
How to Treat Bi/Wei Syndromes
1h
How to Treat Osteoarthritis and IVDD
1h
How to Treat Gastrointestinal Disorders
2h
How to Treat Respiratory Disorders
2h
Five Treasure: Qi, Blood, Shen, Jing, and Body Fluid Physiology and Pathology
4h
Eight Extraordinary Channels
2h
How to Select Acupoints
1h
How to Make a TCVM Diagnosis (Dry Lab)
2h
Acupuncture for Neurological Disorders
2h
How to Approach Clinical Cases
1h
How to Improve Acupuncture Results
2h
Small Animal Cases: a TCVM Approach
3h
Exotic Animal Acupuncture (Lecture and Demo)
1h
Avian Acupuncture (Lecture and Demo)
1h
Review from Session 1-3
1h
How to Treat Renal Failure
1h
How to Treat Heart Failure
1h
How to Treat Behavioral Problems
1h
Introduction to Herbal Medicine
2h
Introduction to Food Therapy
1h
Acupuncture for the Liver
1h
How to Treat Skin Problems
1h
Case Studies from Students
1h
Dry Needling and Lab Demo
1h
Introduction to Electro-acupuncture
1h
Electro-acupuncture Demo
1h
Aqua-, Hemo-, and Pneumo-acupuncture
2h
Canine Acupuncture Point Identification
10h
Overview of Sessions 1-4
2h
How to Treat Diabetes and Cushing's Disease
1h
How to Treat Thyroid Disorders
1h
Certification
Students of the Veterinary Acupuncture program are eligible for the Certified Veterinary Acupuncturist certification endorsed by Chi University and the World Association of Traditional Chinese Veterinary Medicine (WATCVM). The CVA certification requirements are as follows:
Complete all sessions of the program

Pass three online quizzes with scores above 75%

Pass the final written exam in the final on-site session with a score above 75%

Pass the clinical acupoint exam in the final on-site session with a score above 75%

Submit one veterinary acupuncture case report to be approved

Complete 30 hours of advanced TCVM program training or internship with a certified veterinary acupuncturist
Please note that Chi cannot issue any certification to veterinary students until their DVM or equivalent has been obtained.
See the documents needed for certification here
Textbooks
Instructors
Huisheng Xie
DVM, PhD
Dr. Xie has 40 years of clinical, teaching, and research experience in veterinary acupuncture and TCVM. He has trained over 10,000 veterinarians to practice TCVM worldwide. Dr. Xie's education includes advanced training in veterinary medicine, veterinary acupuncture, and human acupuncture. Dr. Xie has authored 20 books and over 100 peer-reviewed papers. His textbooks, including Xie's Veterinary Herbology, Xie's Veterinary Acupuncture, and Traditional Chinese Veterinary Medicine-Fundamental Principles, have been used for TCVM training programs around the world. Dr. Xie continues to teach and develop educational courses and programs at Chi University, serves as a full clinical professor at the University of Florida's College of Veterinary Medicine, and is an honorary professor at China Agricultural University, South China Agricultural University, and China Southwest University.
Read more
Greg Todd
DVM, CVA
Dr. Todd graduated from the University of Florida with a DVM in 1988. In 1993, Dr. Todd became an apprentice to Dr. Patrick Sullivan, AP, and began studying Traditional Chinese Medicine. In 1996, he became certified by IVAS. His studies continued at Chi. He has lectured and instructed nationally and internationally for IVAS, the North American Veterinary Conference, and Chi. Dr. Todd practices integrative veterinary medicine at the Animal Hospital of Dunedin in the Tampa Bay Area.
Cheryl Chrisman
DVM, MSTCVM, CVA, CVCH, CVTP, CVFT
Dr. Chrisman received her DVM from Michigan State University in 1968, an MS degree from the Ohio State University in 1974 and became certified in veterinary neurology by the American College of Veterinary Internal Medicine in 1976. Dr. Chrisman is a certified veterinary acupuncturist from Chi. She was a professor and Chief of the Neurology Service at UF for 30 years and integrated acupuncture into her neurology practice as well as a member of the UF Acupuncture Service. She is a Professor Emeritus at UF as well as the former Editor-in-Chief of the American Journal of Traditional Chinese Veterinary Medicine and is on the Executive Board of the American Association of Traditional Chinese Veterinary Medicine.
Roger Clemmons
DVM, PhD, DACVIM (Neurology and Neurosurgery), CVA, CVFT
Dr. Clemmons graduated with his DVM from Washington State University. There, he also was granted a PhD in veterinary science (emphasis in neurophysiology and clinical neurology). Dr. Clemmons then took a faculty position at the University of Florida's College of Veterinary Medicine where he practiced neurology and neurosurgery for 35 years before joining the private Veterinary Specialty Hospitals in Florida. Dr. Clemmons, a board-certified specialist in Neurology, has published over 100 peer-reviewed original studies, reviews, papers and abstracts and given numerous presentations, both in the US and abroad. At UF, he has had an active research program and is known for his work on platelet physiology and in the study of neurodegenerative diseases such as degenerative myelopathy. He has developed a number of innovative neurosurgical techniques including fixation of atlantoaxial subluxation and Wobbler's syndrome. Dr. Clemmons taught veterinary and graduate students at the University of Florida for 35 years. Dr. Clemmons became a certified veterinary acupuncturist (CVA) at Chi in 2000. He was certified in TCVM Food therapy (CVFT) from Chi in 2009. He integrates Veterinary Acupuncture, Herbal Medicine, and nutrition into his practice. He is a national and international speaker in the field of neurology and the science of veterinary acupuncture.
Allison Faber Marshall
DVM, MS, CVA, CVSMT
Dr. Allison Faber Marshall graduated from University of Florida College of Veterinary Medicine in 1995 and moved to Virginia into general equine practice. She opened Full Circle Veterinary Services, PC in 2005 after becoming a Certified Veterinary Spinal Manipulation Therapy (CVSMT) through Healing Oasis Wellness Center and a Certified Veterinary Acupuncturist (CVA) through Chi University where she also trained in veterinary herbal medicine, food therapy, and tui-na, culminating in completion of a Master's of Science in Traditional Chinese Veterinary Medicine. Dr. Marshall served on the AAEP ethics committee from 2010-2013. She has been an instructor at Chi since 2010. Her busy practice is limited to equine alternative therapies in Virginia and Maryland, and she enjoys a large variety of sport horses and beloved friend as patients. She has 3 grown children, and is an avid surfer, knitter, yarn spinner, gardener, and works to keep her many interests and profession in balance.
Terri Rosado
DVM, CVA, CTCVMP, CCRT, CVMMP
Terri Rosado graduated from UC Davis School of Veterinary Medicine in 2005 and completed a rotating small animal internship at UF College of Veterinary Medicine in 2006. She earned her certification in acupuncture from Chi in 2008 and has been practicing integrative medicine since. She has been a lab instructor at Chi since 2010. Dr. Rosado received her certification in veterinary rehabilitation therapy from the Canine Rehabilitation Institute in 2013. Dr. Rosado is currently enrolled in the TCVM Masters Program at Chi and is certified in all branches of Traditional Chinese Veterinary Medicine. She is an Assistant Professor at Chi University and the medical director of Chi Animal Hospital. She loves to teach, opening her doors to students of Chi and veterinary schools via externships, and welcoming volunteers to learn what small animal veterinary practice is about.
Enrollment Options
Schedule & Tuition
Session 1 includes the $100 application fee.
Session 1
Online
Jan 1 - Jan 31, 2024
Session 2
On-site in Reddick, FL
Feb 1 - Feb 4, 2024
Session 3
Online
Feb 5 - Apr 7, 2024
Session 4
Online
Mar 1 - Jun 5, 2024
Session 5
On-site in Reddick, FL
Jun 6 - Jun 8, 2024
Payment Information
A $250.00 non-refundable course deposit is charged upon enrollment to reserve your seat.
Payment is due 60 days before the start date of each session or course.
Add-ons
Printed Binders
$50.00 / on-site
Required Textbooks
$340.00
Frequently Asked Questions
Do I have to take acupuncture classes in a prescribed order or can I start at any time?
You must start at session one and continue along in order. If you have mitigating circumstances, you will have to defer all following sessions until the next semester.