Chi Main Campus
State-of-the-art teaching facilities on 90 sprawling acres
Campus Tour
Founded in 1998, Chi's main campus was built and designed to educate veterinarians.
Main Teaching Building
Built in 2014, the Main Teaching Building is where lectures and small animal labs are held for on-site classes. This LEED Silver Certified building features library, 160 seat auditorium, and 22 private small animal lab rooms.
Equine Acupuncture Center
Built in 2018 in partnership with the Veterinary College at the University of Florida, the clinic and free standing stadium is used for the equine wet labs for on-site classes.
Lecture Rooms
This 160 seat room is the main location for lectures on Chi's campus. Featuring 4 monitor displays and 3 projector screens, the auditorium is equipped with power outlets for each seat.
Small Animal Labs
Small animal wet labs are held in close groups with one instructor for each six students. They allow students to get a hands-on approach to learning diagnostic techniques as well as locating points to complete the theory portion of courses.
Equine Labs
Equine labs, similar to the small animal labs, pair one instructor for each six students. Students are able to get a more practical perspective to their education by reinforcing what they've learned in lecture.
Traveling to Chi
Nestled between acres of horse country, Chi gives students the opportunity to reflect and take a step back from their busy lives.
Driving
Chi University is located off of I-75. From I-75, take exit 368, then proceed 2.2 miles west on Hwy 318, where Chi will be on the left-hand side.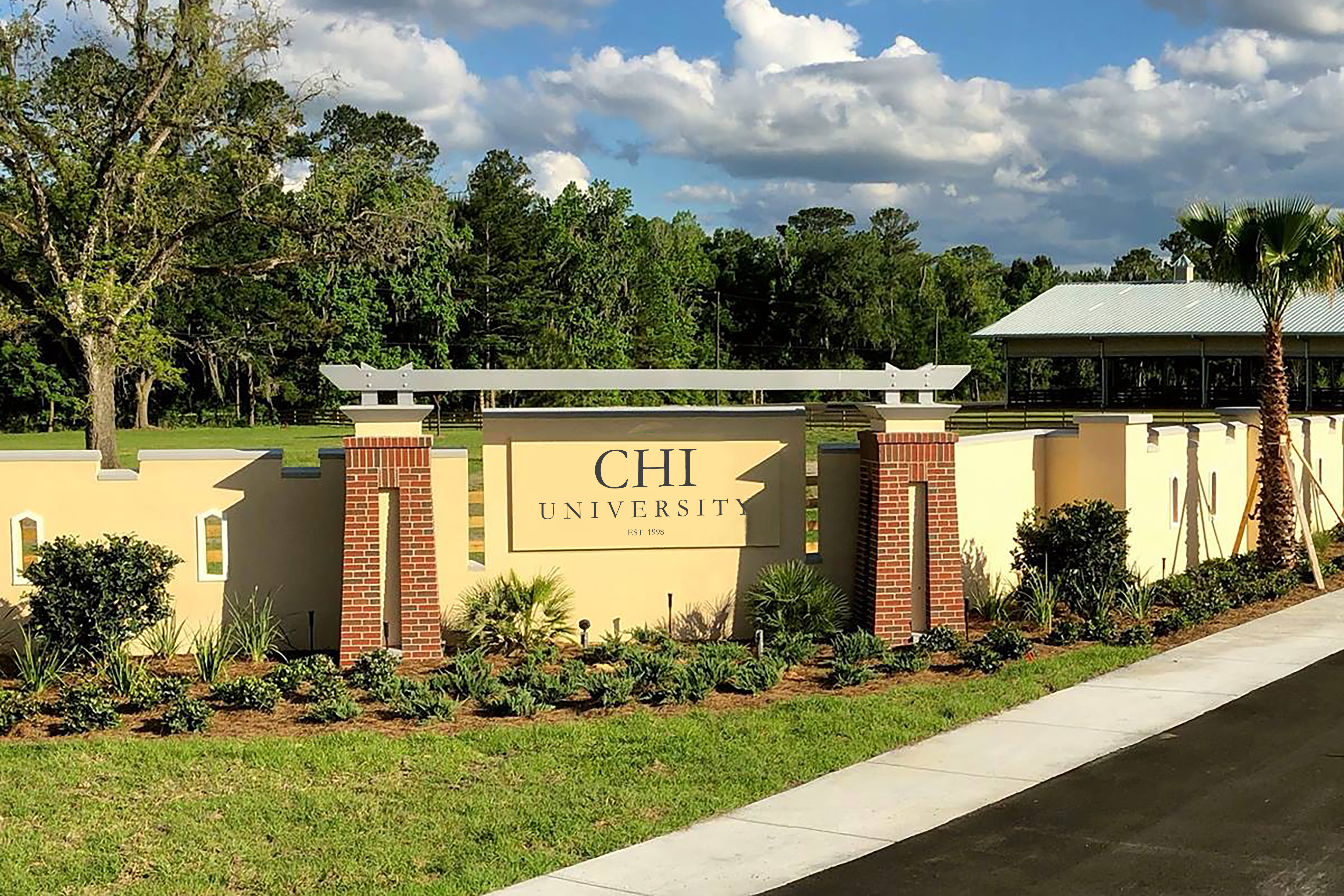 Flying
The closest commercial airport (GNV) is located in Gainesville, Florida. The Gainesville Regional Airport is a small airport serviced by American Eagle, Delta, and US Airways. Rental Cars are available through Alamo, Avis, Budget, Enterprise, Hertz, and National, and it is located about a 40-minute drive away from Chi University.
Major international airports are in Orlando and Tampa, both located about 2-hours south, and in Jacksonville, located about 2-hours north. These airports are serviced by all major airlines and all major rental car companies. For private pilots, Ocala has a municipal airport with rental car service.
What to pack
Lectures are held inside our conference room. Small animal labs are held inside, while equine labs are held outside. Herbal and Mixed Animal labs are indoor/outdoor.
Fall and Winter weather in North Central Florida is generally mild. Mornings can begin in the 30s or 40s yet usually warm up to the 60s or 70s by noon. Clothing to bring include long pants and light winter attire. Leather boots are ideal for working around horses.
Spring and Summer temperatures can easily reach the 90s with high humidity, and shorts and cooler shirts are recommended for outdoor labs during this time. Though note that our barns are equipped with shade and fans.
Accommodation Recommendations
Hotels and Private Lodging
For hotels, be sure to call the local (and not the 800) number to receive the Chi student rate. Note that booking a room online may give you a better rate than the Chi discount - it all depends on room availability.
Private lodging provides spacious and clean facilities that can be shared with another student and have a similar feel to a bed and breakfast. All facilities are within 6-12 miles of the Chi campus, and many students love being close by in a rural setting. Some even have kitchens.
See the list of hotel and private lodging recommendations here.
Local Food Recommendations
Harry's Seafood Bar and Grille (Downtown Gainesville): Cajun cuisine, $$
The Top (Downtown Gainesville): trendy bar and grill with many vegan options, $$
Mark's Prime (Downtown Gainesville and Ocala): upscale steakhouse, $$$$
Falafel King (Gainesville): casual dine-in or take-out Middle Eastern food, $
Olive Garden (Gainesville): 3440 SW Archer Road, 352-333-5354, Italian cuisine, $$
Tinker Latin Restaurant & Food Truck: 502 S Main St, Gainesville, FL 3260, (352) 225-3563, Authentic Latin cuisine
Mr. Han's (Gainesville): upscale Chinese restaurant, $$$
Schezuan Panda II: 2031, NW 13th Street, 352-337-0888, Chinese buffet, $$
The Ivy House (Ocala): Southern cuisine, $$
Ipanema Brazilian Steak House (Ocala): upscale Brazilian steak house, $$$
Amrit Palace (Ocala): authentic Indian cuisine, $$