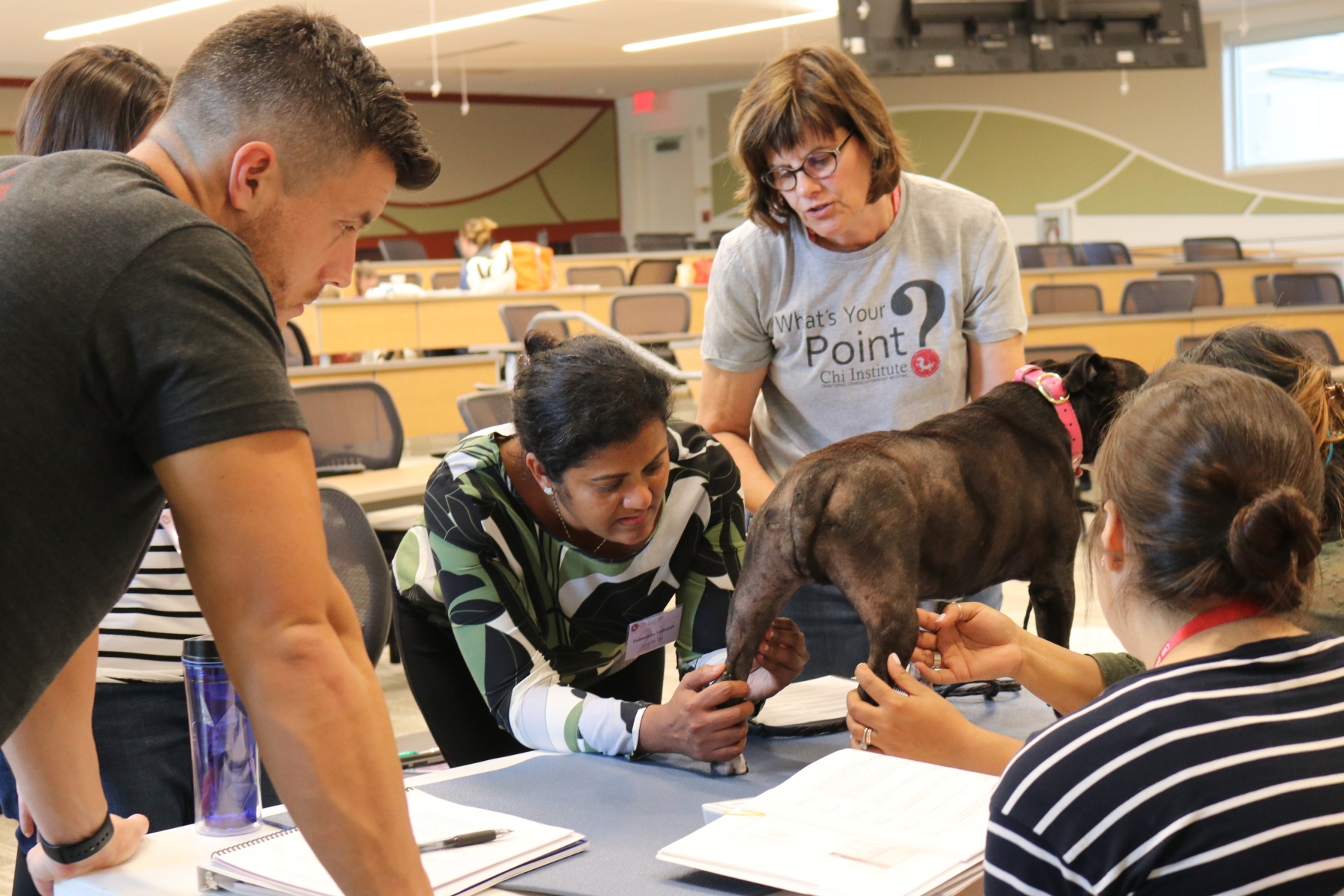 Course Overview
Veterinary Topographic Acupuncture covers the practical application of the minimal distal needle technique for veterinary patients. The course was originally created by Dr. Bruce Ferguson (1957-2019) as an adaptation of Dr. Richard Tan's acupuncture system in humans.
The course will cover:
Review of basic tenants of Veterinary Topographic Acupuncture
Identification of important distal point locations and tissues used to treat disharmonies
Presentation of common channel and Zang-fu organ disharmonies and simple, rapid protocols for their resolution
Course Features
10 hours of small animal and equine wet labs with intensive hands-on learning
Free case consultation with TCVM experts for all students
Complimentary lunches for each day of class
Morning Tai-ji before class to start out your day balanced and with good Qi
Add a new tool to your TCVM toolbox to provide the best of care for your patients
Veterinary Topographic Acupuncture
For veterinarians & veterinary students only
28 RACE approved CE hours
Prerequisites
Completion of the Veterinary Acupuncture Track (Sessions 1-5) from Chi University or a veterinary acupuncture course from another institution is required prior to enrolling for Topographic Acupuncture.
No semesters currently available
Instructors
Cindy West
DVM, CVA, CVTP
Dr. West graduated from the University of Florida College of Veterinary Medicine in 1987. After completing a 15-month internship at Hollywood Animal Hospital, she practiced primarily conventional Western Medicine at her own small and exotic companion animal clinic in Plantation, Florida for 19 years. After selling her South Florida practice, she began to study TCVM at Chi. In 2008, after becoming certified in Veterinary Acupuncture and Tui-na by Chi, she opened her new practice, Alternative Veterinary Medicine, located just north of Tallahassee, Florida. She now practices primarily TCVM and integrated medicine for small and exotic companion animals. Due to the growing demand for holistic medicine, she has begun to practice TCVM for equine patients as well. She has recently completed the advanced acupuncture course for small animals, and currently serves as a lab instructor for the Small Animal Acupuncture course at Chi. She plans to expand her study of holistic medicine to include energy medicine in the near future. Her energy is renewed by relaxing with her critter family on her farm in South Georgia.
Greg Todd
DVM, CVA
Dr. Todd graduated from the University of Florida with a DVM in 1988. In 1993, Dr. Todd became an apprentice to Dr. Patrick Sullivan, AP, and began studying Traditional Chinese Medicine. In 1996, he became certified by IVAS. His studies continued at Chi. He has lectured and instructed nationally and internationally for IVAS, the North American Veterinary Conference, and Chi. Dr. Todd practices integrative veterinary medicine at the Animal Hospital of Dunedin in the Tampa Bay Area.
Ronald Koh
DVM, MS, DACVSMR, CVA, CCRP, CVMMP, CVCH, CVFT
Dr. Koh earned his veterinary degree in Taiwan and further honed his expertise at the University of Florida College of Veterinary Medicine, completing a specialty internship and a Master's in acupuncture/integrative medicine. Subsequently, he has been teaching at Chi University and served as a clinical assistant professor at LSU School of Veterinary Medicine before his current role as the clinical associate professor and head of Integrative Medicine at UC Davis School of Veterinary Medicine. Certified in acupuncture, Chinese herbal therapy, Chinese food therapy, rehabilitation, and medical manipulation, Dr. Koh is also board certified in Veterinary Sports Medicine and Rehabilitation. He also holds the distinguished title of Charter Fellow with the American College of Veterinary Botanical Medicine. Dr. Koh is an internationally recognized speaker and mentor in the areas of rehabilitation, TCVM, and integrative medicine. He also has contributed to academic literature, penning book chapters and peer-reviewed articles on these areas. His clinical focus centers on integrative approaches to various health conditions to optimize clinical outcomes and quality of life, particularly concerning pain management, mobility issues, and chronic disorders.
Enrollment options
No semesters currently available